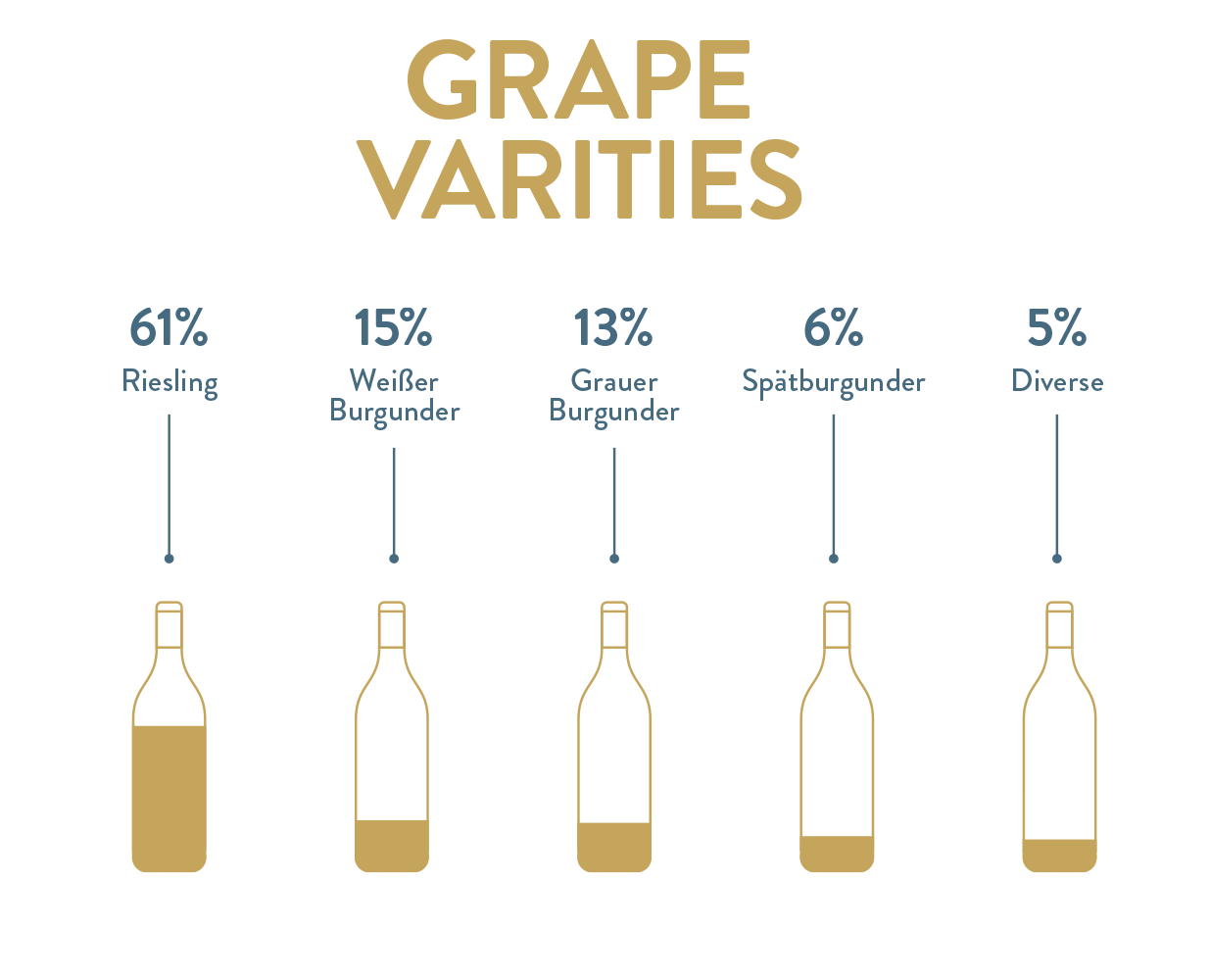 Restraint Creates Individuality
We work close to nature in our vineyards, and we try to interfere as little as possible in the cellar so we can preserve the individual character of the soil and climate in our wines.
Instead of mineral fertilizer, we use horse manure in our vineyards. We plant cover crops between the rows of grapes for better-aerated soil. And our Heidschnucke sheep work hard in the vineyards as "lawnmowers."
In the category "Local Wine" and better, we ferment our white wines spontaneously in large old wooden barrels. We let them ripen in the leavenings for a long time and do not practice battonage (stirring up the wine yeast).
We do not use maltolactic fermentation for our Rieslings, and we bottle our Pinot Noirs without filtering them first.
That means the wines from the different sites taste very different, in their own ways.
Rieslings are our specialty
White wine grows at nearly 90 percent of our steep sites. We specialize in Riesling, which makes up about 70 percent of our white wine grapes.
We are especially proud of the 70-year-old Riesling vines at our Münsterer Pittersberg site, and of the over 80-year-old vines at the Abtei site.
The Großes Gewächs grapes (dry Grand Cru) represent our highest-quality Rieslings from the VDP-classified sites Burgberg GG, Im Pitterberg GG, Dautenpflänzer GG and Scharlachberg GG.
Our Riesling Burgberg GG and the Riesling Im Pitterberg GG have received the highest international ratings from Parker (2020) and Gault&Millau (2019, 2020).
In addition to Riesling, we also plant Pinot Gris, Pinot Blanc, Chardonnay, Scheurebe and Sauvignon Blanc grapes.
Our Pinot Noirs Also Receive Top Marks
We have been growing Pinot grapes for well over 30 years. We give the wines plenty of time to ripen so they can develop their refined, elegant structure.
Our Pinots are not "flavor bombs" – they have an upfront, well-integrated acidity. They are fermented spontaneously for a long time on top of the mash, and they ripen in 500-liter barrels or oak barrels with subtle toasting.
According to international wine guides, our Pinot Noirs are among the best red wines in Germany, and among the best Pinots from the Nahe region.