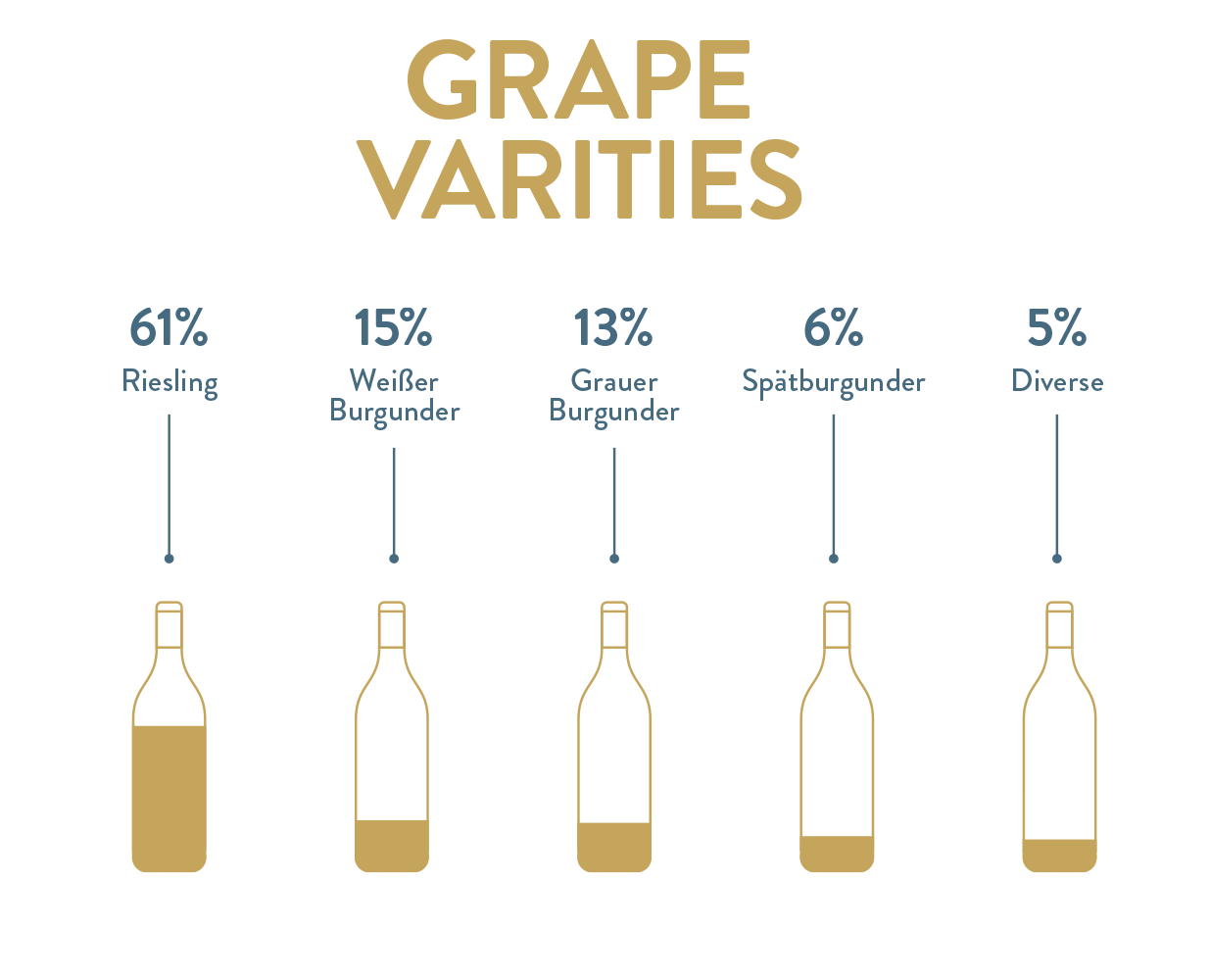 Letting go leads to individuality
We work closely with nature and try to intervene as little as possible in the cellar to preserve the individual character of soil and climate seen in our wines.
Instead of mineral fertilizers we spread horse manure in our vineyards. Between the rows of vines, we use plant cover so that the soil is better aerated. Our Heidschnucken sheep are effectively "lawnmowers" in the vineyards.
From the category of "local wine" or "Ortswein" and up, we create our wines using spontaneous fermentation in large, old wooden barrels. We let them mature for a long time on the yeast and do so without applying bâtonnage (stirring settled lees and yeast).
With don't apply malolactic fermentation (MLF) to our Rieslings and we fill our Pinot Noirs into the bottles unfiltered.
As a result of this the wines from individual sites each taste very different in their own way.
Rieslings are our specialty
Almost 90 percent of our steep slopes on the Nahe are planted with white wine vines. We specialize in Riesling, which makes up around 70 percent of our white wine vineyards.
We are particularly proud of our Riesling vines in the Münsterer Pittersberg vineyard as they are over 70 years old. Our vines in our Abtei vineyard are over 80 years old!
The category of "Grosse Gewächse" represents the highest level of quality in our Rieslings from the VDP classified sites Burgberg GG, Pitterberg GG, Dautenpflänzer GG and Scharlachberg GG.
Our Rieslings from the Burgberg GG and the Pitterberg GG are among the highest rated wines by Parker (2020) and Gault&Millau (2019, 2020) in the international category.
As well as Riesling we also grow Pinot Gris, Pinot Blanc, Chardonnay, Scheurebe and Sauvignon Blanc.
Our Pinot Noirs are also highly ranked
We have been growing Pinot Noir for over 30 years. Our wines are left to slowly mature in peace so that they are allowed to develop their fine, elegant structure.
Our Pinot varieties aren't huge flavour bombs, but instead have an upfront and well-integrated acidity. The must is allowed to spontaneously ferment over a long period of time and mature in 500 litre barrels or in barrique barrels. The barrels themselves have a light level of toasting.
According to international wine guides, our Pinot Noirs are among the best red wines in Germany and among the best Pinot varieties from the Nahe region.