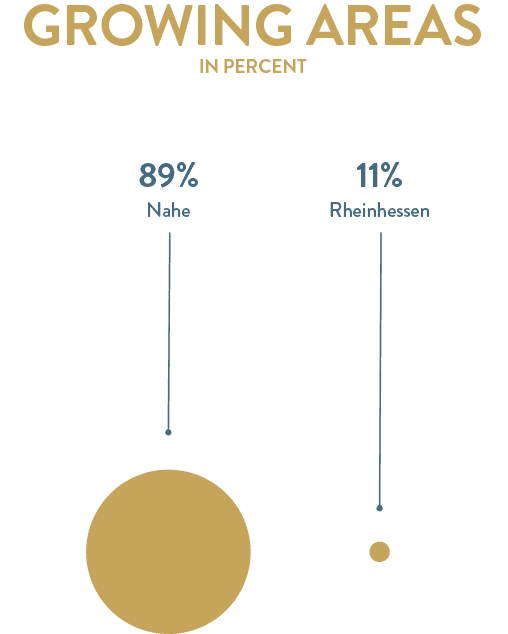 Experimental
In the early 1980s, Stefan Rumpf's vineyard was the first on the Nahe river to plant Chardonnay vines as he thought that the climate and soil of the lower Nahe valley would provide an ideal basis for this grape variety. He deserved to be right and he was!
At the Kruger-Rumpf winery we are constantly experimenting. However not all of what we do is entirely new. Sometimes we revert to traditional methods and modify them. Some these traditional methods were in use over a hundred years ago.
For example, we wanted to revive the use of wooden barrels. We experimented extensively with grape varieties, types of wood, the degree of toasting, what we filled the barrels with and cooperage... until we achieved the desired result.
We also refill the wines from one barrel into the other and we fill our Pinot Noir without filtering.
Much of what defines the Kruger-Rumpf winery today is the result of experimentation - like the Blanc de Noir, which we have been growing since the early 1990s.
A central theme
Experimentation is as much a part of the Kruger-Rumpf winery as preserving tradition is. We like to try out new things. Sometimes these new things are traditional methods. It just has to suit us and feel right.
It is important to us that this central theme is clearly visible at the winery and in our wines.
One thing just led to another
Our father studied agronomy almost 40 years ago, including the keeping and breeding of livestock. He dreamed of retiring and raising sheep and goats.
In 2013 we laid out the vineyard terraces on the steepest part of the Münster Rheinberg. We wanted to carry out the planting with as little use of pesticides as possible while at the same time trying to avoid burdening the soil with heavy machinery.
A conservation project in the Middle Rhine area grabbed our attention where green areas were kept in check using grazing goats. We were very excited.
A roll in the hay
We are convinced that in an agricultural scenario, farm animals can make an essential contribution to a circular recycling economy.
We therefore put five Boer goats to graze in our vineyards. After they escaped several times, we switched to Heidschnucken sheep.
To start with having goats worked really well. Alas, escaping became part of their daily routine and, for us, catching them was too exhausting long term. Now we keep Heidschnucken in the vineyard, and they have proven themselves to be very diligent workers.
We now have between ten and twenty sheep and lambs grazing in the vineyard, depending on the season. This works well for us, especially where the vineyard terraces are steep like in Langenberg and Rheinberg.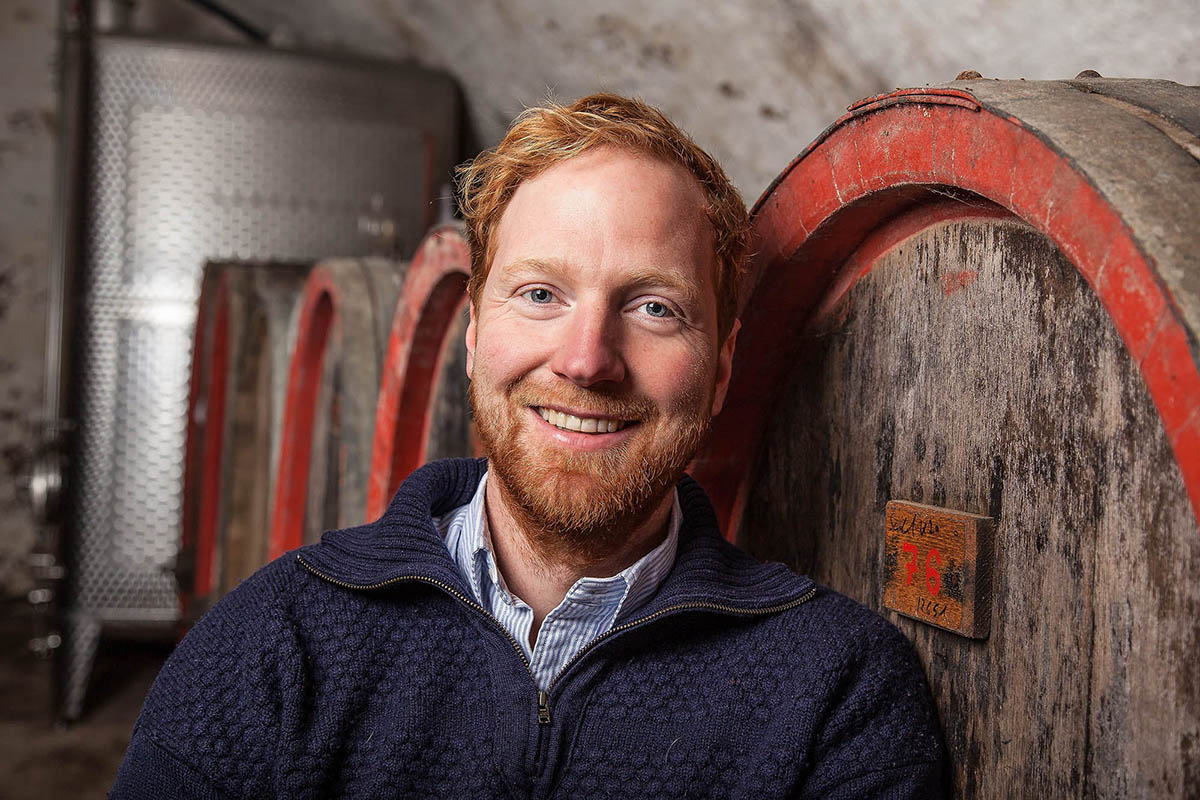 Georg Rumpf
Georg Rumpf joined his parents' winery after studying viticulture. He looks after the vineyards and is responsible for viticulture and oenology. When the weather goes crazy, he is the go-to expert for creative ideas that lead to very enjoyable wines.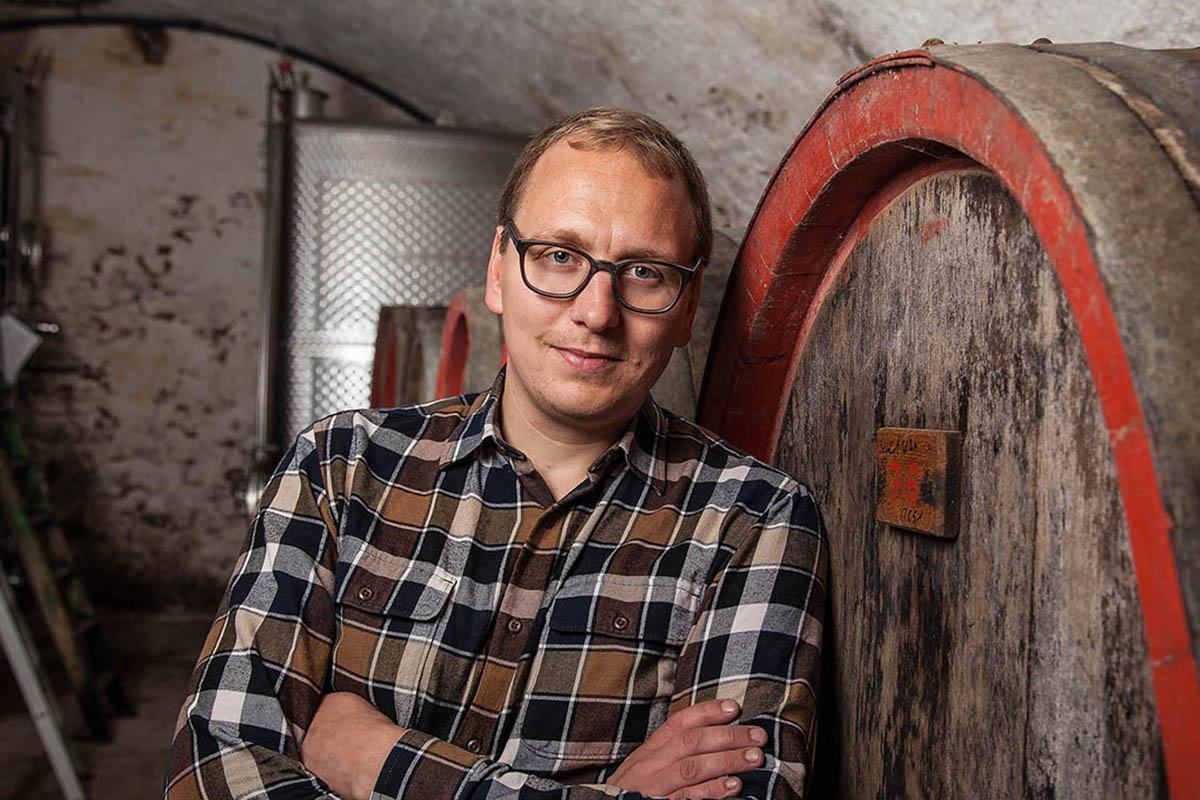 Philipp Rumpf
Philipp Rumpf's experience during his degree in beverage technology, work as a sales engineer for various employers and later his master's degree, strongly influence his daily work for the winery. He is the second oldest son and has been responsible for sales and marketing at Kruger-Rumpf since 2015.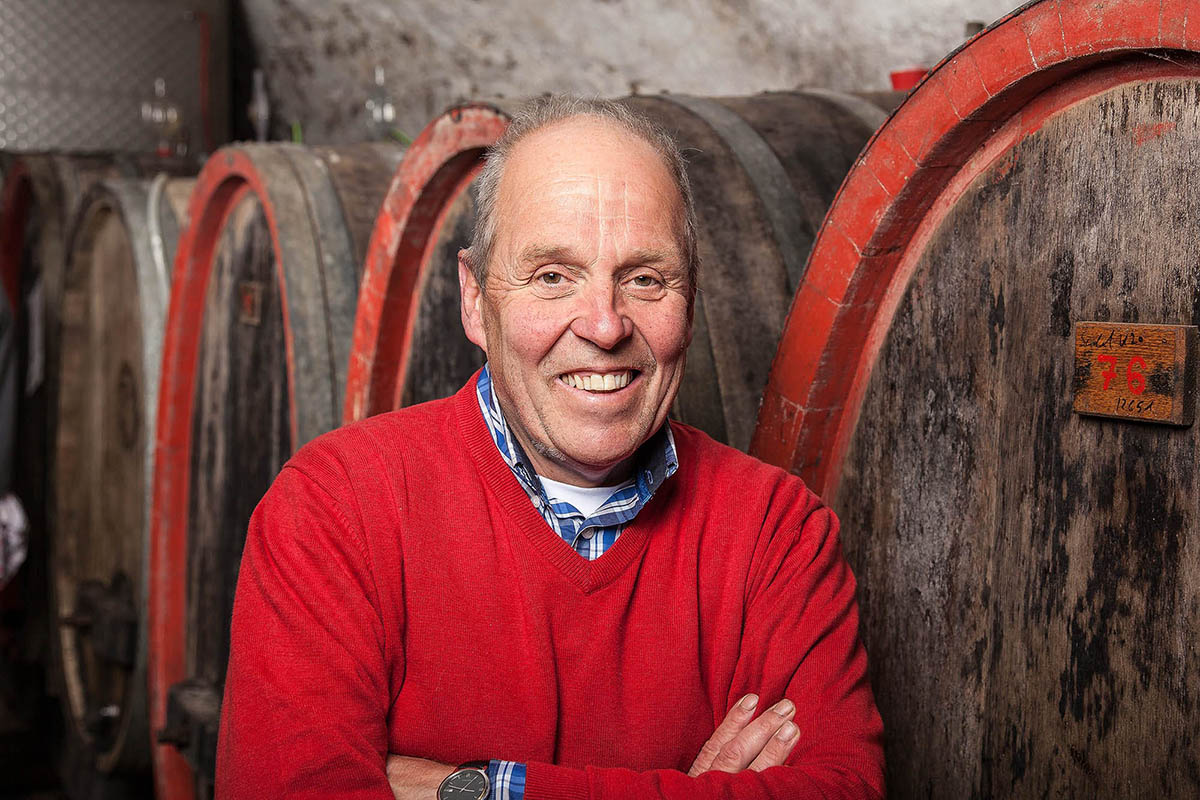 Stefan Rumpf
He successfully set the ball rolling in 1983 when he took over his parents' winery after studying agricultural sciences. He converted the former Kruger Erben barrel wine business into the Kruger-Rumpf winery. Nowadays as a senior, he lovingly cares for the Heidschnucken sheep in the vineyards, along with many other tasks.
Marian
Marian was still a young man when he first came to our vineyards in Münster-Sarmsheim. Helmut Kohl was at the beginning of his political career, Poland was still a People's Republic, and in Chernobyl there was a nuclear disaster – it was 1986.
Just two years before this, Stefan Rumpf had taken over the winery from his father and being a devotee to quality, he made the switch from barrel to bottle wine. As a result of this change, there was more and more work to do in the vineyard and he needed help during the peak periods of spring and autumn.
One of the first seasonal workers to come to the winery was Marian: a young ski instructor from Poland. He barely spoke a word of German and knew nothing about working on the vineyard.
30 harvests later, Marian is still working in the vineyard. He hasn't escaped the tell-tale marks left by time: his once blond hair has now turned grey and you can see a couple of wrinkles, but no one would challenge his position on the steep vineyard slopes.
Classic vineyard duties make up only a fraction of his work and he has a good level of German that helps to overcome lots of language barriers. He has been able to convince numerous friends and acquaintances to come to Münster-Sarmsheim to work in the vineyards too.
Let's not forget how important his duties as a kind of "babysitter" have been. When Johannes, Georg and Philipp had to help with the harvest during their autumn school holidays, it gave the family peace of mind to know that there was always someone looking out for the three boys.
In a few years, Georg, Philipp and John's children will take part in their first harvest - and we hope and assume that Marian will teach the next generation how to pick grapes too.